24 May 2023
GRYPHON – REQUEST FOR INSPECTION
Climbing Technology has issued a voluntarily request for inspection of the Gryphon (Ref. No. 7H174) and Gryphon Ascender (Ref. No. 7H178) full body harnesses by the user.
It has come to our attention that there might be the possibility of a miss-threaded shoulder strap in the adjustment buckle B (Figure 1). This error can lead to difficulties in the adjustment of the harness.


Because of this, when donning the harness, the shoulder strap can easily loosen making it impossible to correctly adjust the harness. To date, only one harness with this issue has been identified and no accidents have been reported.
The products potentially affected by this error are those manufactured between 11-2022 and 03-2023.
We ask you to carry out the inspection procedure indicated below. If the product in your possession is affected by this problem, please contact us to arrange shipment at our expense:
• e-mail: commerciale@aludesign.it / vendite@aludesign.it
• phone: +39 035 783595 – ext. 4 from Italy – ext. 5 from abroad
Please clearly indicate both on the package and inside it, your details (name and surname, address, e-mail, phone number). We need this information for the delivery of the replacement product.
Climbing Technology ensures the safety and quality of all its products. Your safety is our highest priority. We apologize for any inconvenience caused. The replacement product will be shipped to you as soon as possible.
CONTROL PROCEDURE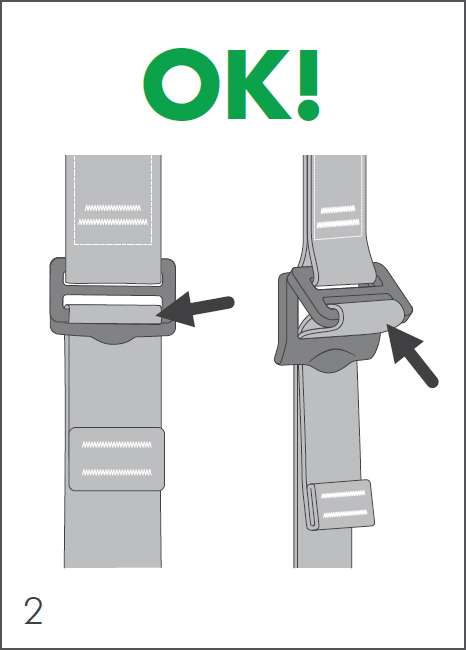 Visually control every buckle present on the harness, except the quick release buckles: verify the correct threading of the webbing (Fig. 2).
Carry out a functional check of the adjustment system for each buckle.
1) Pull the outer part of the strap (Fig. 4.1-5.1);
2) After that, pull the inner part of the strap (Fig. 4.2-5.2):
• if the strap remains stable in its position, the adjustment system is working correctly (Fig. 4.1-4.2);
• if the strap is free to move inside the adjustment system, the buckle is affected by the error (Fig. 5.1-5.2). Stop using the harness and follow the instructions indicated on the previous page.